You expect to encounter ghosts on a ride called The Ghost Train. In truth, if you didn't encounter something unsettling, you'd probably demand a refund. Living in Blackpool, I'm familiar with the rides at our local amusement park, the Pleasure Beach. I'm also familiar with the rumours that 'Cloggy' a former ride operator, can still be heard on the Ghost Train ride there.
The Ghost Train at Blackpool Pleasure Beach opened in 1931 and was the first ghost train in the UK.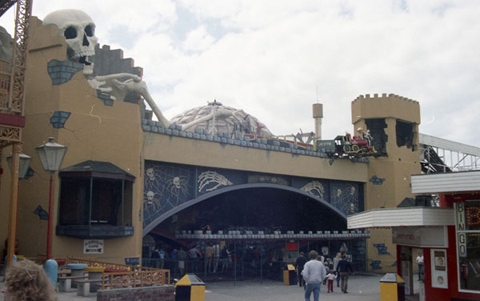 After several modifications, improvements and design changes, it has become a striking attraction fronted by a gigantic skeleton that's climbing out of castle-like embattlements. Riders sit in two-person carriages that take them through the twists and turns of both levels, hurtling along dark passages, passing illuminated set pieces, and encountering various scare-devices such as skeletons, ghosts and banshee-like wails.
And the ride is supposed to be haunted by a former ride operator: Cloggy.
Reports say that Cloggy was a committed member of staff who would do anything to ensure that customer service standards were reached, and that the customers got the fright of their lives whilst riding on the Ghost Train. And it seems this devotion to duty continued for the gentleman, even after he died. It was not uncommon to hear customers say they had been touched or grabbed by someone that they could not see.
Over the years the reports increased and many customers were unsettled to learn that the extra sensations they had experienced were not supposed to be part of the Ghost Train ride.
Odd sounds, such as tapping, footsteps and groans, have been heard echoing through the walls.
In 2004 the 'Most Haunted' team visited Blackpool's Pleasure Beach and members of that group said they heard odd noises, whilst one claimed to have been touched on the head.
Speaking from personal experience, I have been on the Ghost Train several times and it does carry a delightful air of the macabre and the sinister. Did I hear knocking sounds? Yes. Were they supernatural? I have no way of knowing. Did something touch me? Yes. Was it supernatural? I have no way of knowing. I was riding with someone who has a mischievous sense of fun so I could have been the victim of a harmless prank.
But I will say, once all the lockdowns and quarantines have ended, I hope to go back to the Pleasure Beach, ride the Ghost Train again, and pay closer attention to any signs of Cloggy.